Pastel Painting and Color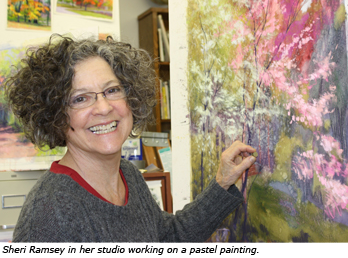 Welcome back! I took time off to help with my new grand twins! I only worked on commissioned work during this past summer. My father's painting called "I Am" is finished, again, after exhibiting it in a show at the Prairie Art Alliance. Some things take longer to finish than others! In my case some paintings are finished many times. Don never believes me when I say "I am finished." My Dad's painting took 1 3/4 plus 35 years.

Many other paintings have gone to private collections. You may want to check the potrfolios to see which ones are no longer available.

It's good to be back at work though, painting for myself. There are some new paintings already and many in the works. Images of the new work will be posted on the web site soon.

I've worked on a few paintings as demonstrations for my class at the Springfield Art Association. I'm really happy with them. One, of Lincoln Memorial Garden, sold before it was finished. The other three are of our lake on a foggy morning, a sunset at our lake and a still life. I haven't done a still life for a long time and it was good to get back to that subject matter.

Another sunset is in the works, a French cosmos scene and a scene from the garden at St. Joseph's Home in Springfield with a sculpture of Mary and flowers.

It's been fun figuring out what direction I'm going; I'm never sure. I love working with an oil underpainting with splatters and drips. Then going over the underpainting with my soft pastels. I'm getting looser [my goal in life] as I go, using the side of my pastel often. Workshops with Richard McKinley and Desmond O'Hagan gave me inspiration and a way to loosen up. You can still see my style through it all.

View Recent Work since summer, 2012.