The story of "I AM"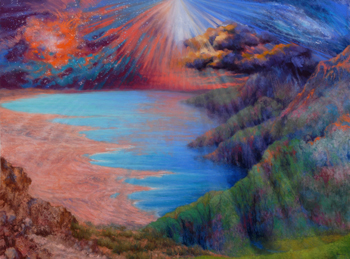 [Exodus 3: 13,14]

This is a painting of God and His Son's influence on our earth. God's light is beaming from outside earth at the upper center of the painting. Jesus faintly appears as light coming from God. In the upper left is an orange nebula of a galaxy created by God in far space. A "newborn face" is shown in the nebula, representing the birth of a galaxy. On the right is our Milky Way in its blue spin.
These are original images created after studying Hubble and other Internet photos.
Under the nebula on the left is the wilderness created from my photos of the Dead Sea area. Hidden in the wilderness are profiles of Adam and Eve searching for God. In the upper right center are storm clouds separating the earth from God and representing human interference with God's will. Jesus' light shows through the clouds onto the land and represents earth changing from rock to fertile land and new life.
My father, Rev. Gerald Raschke, had this vision in 1977. The dream kept repeating itself until he finally recorded it. At the time, I wasn't painting landscapes and didn't think I was ready to paint it.
In 2011 I decided to try to put the vision on paper. My father and I worked together to complete this painting. A pastel painting might take from one week to a month to finish as I work on three to five paintings at a time in different phases of completion. This painting – not counting the thirty-four years to start it – took over a year to paint. It was finished and photographed as finished three times. It was framed twice.
The painting had many lives. The first was a study which my Dad approved [#1 image]. When I transferred it to a bigger format I needed to add marks, shapes and images for the largest pastel painting I have ever created. I changed the focal point from the storm [image 2] to the green area (where growth represented Jesus' influence [image 3]. It didn't seem exciting enough although my Dad liked it. Then, I moved the focal point back to the storm and God's light [final image # 4, above].
Colors, values and shapes changed throughout the painting as the focal point moved. The biggest changes were to emphasize different parts for the focal points. Each time though, after the focal point was changed, I needed to make the rest of the painting relate to the newer focal point.
| | | |
| --- | --- | --- |
| | | |
| I AM [Study #1] | I AM [Study #2] | I AM [Study #3] |